Existing Zoning and Land Uses
The northern half of the district is primarily comprised by Schmeeckle Reserve, which is zoned Conservancy. The southwestern quadrant is University Facilities District (U1) due to the presence of the UWSP campus. The district's remaining land uses are largely dictated by Stanley Street, with Commercial and Multi Family Residential (R4 and R5) parcels adjacent to the roadway. A mix of Single Family Residential (R2) is found north of Stanley Street and a large single-family neighborhood in the south/southeastern portions of the district. There is also a large Planned Development District adjacent to the south end of Schmeeckle.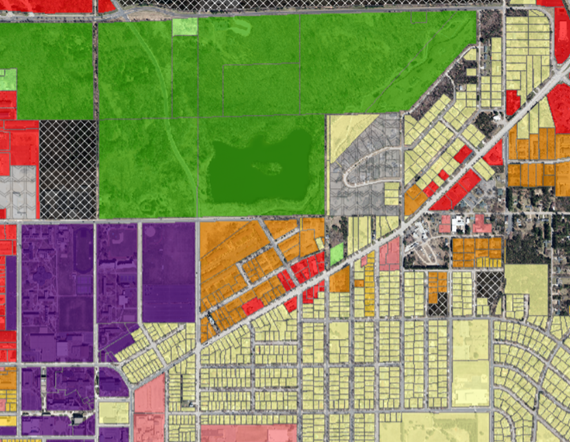 Schmeeckle condo neighborhood for early retirees
Make Stanley Street Stevens Point's version of State Street in Madison. Focus on college culture.
In the parlance of Strong Towns, a prominent smart growth policy organization, Stanley Street would be characterized as a "stroad," a street/road hybrid that mashes up the functions of wealth-building (street) and the efficient movement of vehicles (road). Strong Towns calls stroads the "futons of transportation" because, as futons are neither particularly good beds nor particularly good couches, stroads are neither particularly good roads nor particularly good streets.
A Strong Towns approach to improving Stanley Street would be to emphasize creating a successful place by slowing down traffic, prioritizing the activity and safety of people over the movement of traffic, and implementing regulatory changes that encourage incremental, wealth-building activities like context-sensitive development that improves, intensifies, and expands existing structures and promotes quality infill projects.