Stevens Point is a thriving community of choice that is inviting to and supportive of all people. We are grounded in creativity and innovation, where sustainability and healthy living are a way of life. People are the Point.
The strength of Stevens Point has always been its dichotomies. Stevens Point is both a small town and a small city. It sits in the tension zone where the southern prairie integrates with the Northwoods. Its people are always a mix of lifelong residents and the recently relocated. The economy is equal parts agriculture, manufacturing, education, insurance, healthcare, and more. 
This wide variety of appeal is a unique asset to the community; however, it can also cause serious challenges when attempting to identify top-priority community development projects. A quick look at past master plans and Common Council minutes shows how often progress stalls out as attempts to set a direction leave part of the community feeling unseen.
This tension came across in interviewee feedback. As one participant shared, "My vision of Stevens Point isn't fast-growing; it isn't Madison. The core part of Stevens Point is a small town with big-city amenities. Protecting greenspace, minimizing sprawl, good water, and food access is part of who we are."
This viewpoint often clashed with stakeholders' desire for new restaurants, retail, and housing along the Wisconsin River, a more "vertical" downtown, and entertainment, recreation, and cultural amenities that you might typically find in a larger community. Many residents are tired of seeing individuals and families leave the city for places that offer a more dynamic array of lifestyle assets.
This plan aims to take this either-or tension and turn it into a both-and strength. Its best-of-all-worlds spirit expands both variety and location with aims to activate the right place for each lifestyle and grow a network of Hubs that all offer something distinct. If successful, this strategy will grow opportunities within the rural/natural framework to keep the city on this valuable balance point between small town and growing city.  
The artistic concept of "pointillism" has value as a metaphor to inform the concepts in this strategic plan. In painting, pointillism is "the practice of applying small strokes or dots of color to a surface so that from a distance they visually blend together." How do we stop thinking of living in Stevens Point as a singular experience and instead invest as a city in ways that support as many different experiences here as possible? In that spirit, Atlas offers this statement: "Many Points will make the most beautiful community." 
Through intentional community engagement, develop a network of creative nodes across the city that serve and strengthen the neighborhoods that surround them to expand and diversify the lifestyles supported in Stevens Point.
Downtown Stevens Point is a dynamic district that serves as a focal point of the city's arts and cultural life, with multiple retail, entertainment, dining, and hospitality options for residents and visitors. Increasingly, housing is being added to the downtown mix.
While stakeholders in the Stevens Point Strategic Plan planning process were quick to praise the progress being made downtown, many feel that to take the next step in its evolution as a community of choice for talent and jobs, Stevens Point must expand its focus beyond downtown into the city's other activity centers. This strategy would not come at the expense of downtown but seek to complement downtown with commercial, recreational, and housing Hubs that provide different environments and options to appeal to a broader segment of the population.
By expanding the number of Hubs that support the community and strengthening the sense of place within those Hubs, Stevens Point will be able to meet its increased demand for amenities while preserving much of its small-town charm. 
In the context of the Stevens Point Strategic Plan, "Hubs" is capitalized because this concept serves as the lynchpin of the plan and seeks to create districts that are unique to Stevens Point. Rather than watching one particular section of the community grow too tall or feel too dense, the Hub strategy will develop a network of creative nodes across the city that will serve and strengthen the neighborhoods that surround them and expand and diversify the lifestyles supported in Stevens Point. This will simultaneously honor the traditions and lifestyles that have made Stevens Point great while adding new features that improve its capacity to attract a strong workforce.
This approach activates two key schools of practice that have proven valuable to contemporary community and economic development – both of which have already taken root in Stevens Point. Placemaking will elevate the identity of these Hubs, leveraging existing character and informing future housing, commercial, cultural, and recreational investments, and Walkable Neighborhoods will inform accessibility, infrastructure, and development within these Hubs in hopes of supporting more complete districts within the community. 
This approach also gives Stevens Point the opportunity to improve incrementally, to support local companies in the process, and to test the success of projects before investing on a grander scale.
The Hub activation strategy will develop a network of creative nodes across the city that will serve and strengthen the neighborhoods that surround them and expand and diversify the lifestyles supported in Stevens Point.
The community engagement process revealed a clear call for increased diversity and support for equity, diversity, and inclusion. The following were the terms used most often in response to the question, "What are three WORDS or PHRASES you'd like to see used to describe Stevens Point in the year 2030?"
In this approach, "diversity" becomes both the overarching strategy and its own subgoal. It may be helpful to start the visioning process by thinking of as many people-types as possible and then consider the "Points" that would best support their lives. This should include a mix of who has been here and deserves to feel seen and respected as Stevens Point grows and changes as well as who is not here yet (or not here in critical mass) and what they would need to feel invited and supported. It should also consider all types of diversity from greater ownership for all ethnicities to a wider variety of recreational and entertainment offerings.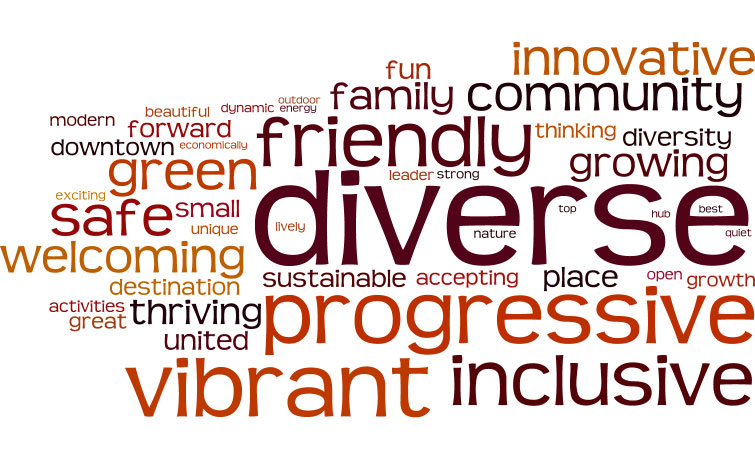 Those "Points" should inform the "focusing efforts" section. What varieties of housing will support the most people-types? What are the best locations for those housing units? What commercial and cultural centers will enable the quality of life these people-types seek? What additional entrepreneurship supports will help to activate those centers? The community will have to consider simultaneously what general efforts (public safety, awareness building, anti-oppression, marketing, etc.) are required to improve the community's capacity to support all people should this plan succeed in attracting more diversity.
The process was possible because of input, ideas and guidance by a Steering Committee of local public and private leaders. Thank you all for volunteering your time and talents to support this process.