Existing Zoning and Land Uses
The North Division Placemaking Hub is dominated by the western end of the Schmeeckle Reserve (zoned C-Conservancy) and the University of Wisconsin at Stevens Point Campus (zoned U1-University Facilities District). On both sides of Division Street are dense parcels zoned Commercial (B4). The district also features a handful of Split Zoned and Planned Industrial districts, as well as a mix of residential uses, primarily Single and Two Family Residential (R3) and Multi-Family Residential (R4) along major arterials and Single Family Residential (R2) east of the UWSP campus.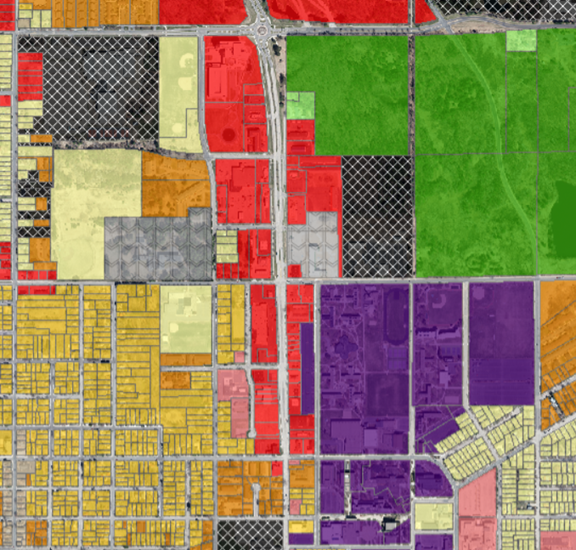 A recent master plan for the Division Street Corridor in Stevens Point leveraged much public input to guide proposed project concepts. This work can inform efforts to identify, confirm, and implement project priorities in the North Division Placemaking Hub.
Targeted Area Master Plan for the Division Street Corridor
Vandewalle and Associates developed a Targeted Area Master Plan for the Division Street Corridor that was presented to the public on April 25, 2019. The firm proposed three-character districts along Division Street as the primary redevelopment nodes for the plan. The following map displays the three-character districts.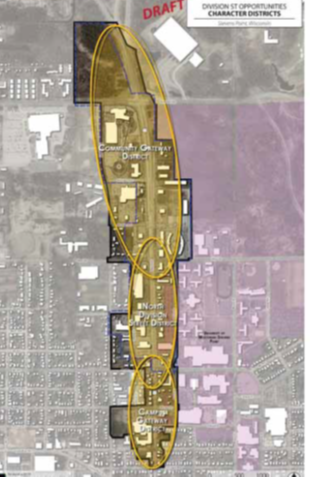 Recommendations for each character district focused on a set of roles and goals to focus on during implementation. They are as follows:
Community Gateway District

North Division District

Campus Gateway District

Role

Regional Employment & Retail
Community & Campus Gateway Form
Enhanced Suburban

Role

Neighborhood & Campus "Living Room"
Campus Gateway Form
Transition to Urban

Role

Community Form
Community Scale

Goals

Enhance community and campus gateway features
Improve street cross section
Complete pedestrian facilities
Redevelop underutilized parcels

Goals

Create urban street environment
Enhance pedestrian facilities
Reduce vehicular conflicts
Redevelop single use corridor to mixed use
Incorporate new housing opportunities

Goals

Reorient around 4th Avenue intersection
Enhance aesthetic environment
Enhance pedestrian facilities
Road diet
Run-down hotels and parking lots
Attract businesses with high internship/research relationships with UWSP.