Existing Zoning and Land Uses
The Downtown and Riverfront Hub is characterized by Conservancy zones along both sides of the Wisconsin River and the natural lands west of the river. Housing west of the river is predominantly Single Family Residential with nodes of Single and Two Family Residential. Around the downtown core (Central Business) is a mixture of Central Business Transition and Multi-Family areas. Further from the downtown, the predominant land use is Single Family Residential. Select Light Industrial districts can be found in the south part of the Hub.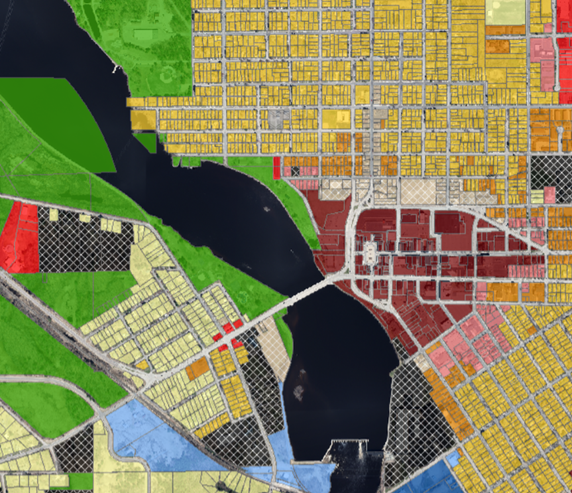 As seen in the following map, the whole of the downtown is part of a Traditional Neighborhood Development Overlay District.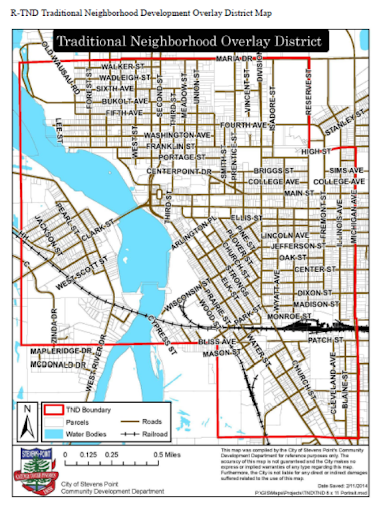 The purpose of this district is to allow the development and redevelopment of residential land in the city consistent with the design principles of traditional neighborhoods, which are: compact, designed for the human scale, and characterized by larger homes on smaller lots with smaller setbacks from the property lines.
There has been extensive planning done for Downtown Stevens Point. This work can inform efforts to identify, confirm, and implement project priorities in the Downtown and Riverfront Placemaking Hub. The most recent report for Downtown is profiled below.
Targeted Area Master Plan for Downtown
Directed by the Redevelopment Authority of the City of Stevens Point, targeted area master plans for the Downtown and Division Street corridors will serve as the primary vision-setting and policy-directing strategies to lead the ongoing revitalization and evolution of Stevens Point for the next 10 to 20 years. 
In addition to establishing priorities for the City's future land use, transportation network, park and open spaces, and major development projects, the Plans are expected to guide real estate and infrastructure investments and planning and economic development activities.
The new Plans build on prior plans and technical studies, modern trends, and recent development activity. Further, they will meaningfully engage both the local and broader community to ensure they reflect the needs and desires of the Stevens Point stakeholders. It is therefore critical that the targeted area plans are incorporated into Stevens Point Strategic Plan implementation to leverage Hub Association and Placemaking Commission efforts to serve the City's broader goals for these two critical corridors.
In May 2019, the consulting firm Vandewalle and Associates presented the Targeted Area Master Plan for Downtown at an open house for local stakeholders. All documents and presentations from this and other meetings can be found on the City's website here. 
Because, according to the Plan, "People, talent and companies are drawn to 'great places with a youthful energy and talent pipeline,'" effective implementation of the Targeted Area Master Plan for Downtown will be critical to draw top students and faculty looking for a good school in a small community; help attract young talent for growing companies; and grow an "active adults" vibe.
Achieving positive results will require adhering to a set of Guiding Principles undergirding the Plan's recommendations. These Principles are:
Resiliency
Multi‐faceted Employment Base: Existing & Future
Diverse Housing Choices
Strong Educational Options
Vibrancy
Create Opportunities for entertainment & recreational destinations
Foster Activity Centers
Diversity
"One size does not fit all"
Support attractive public and private spaces and amenities
Work to retain and attract residents, employees and students
Build upon local and regional tourism efforts
The Guiding Principles are activated by strategies that target a number of key downtown focus areas. These strategies are:
Build Upon Downtown's Assets:
"What Makes Point… Point?"
Protect & Enhance Historic Main Street Core
Connect Downtown to River
Refocus & Revise Downtown Circulation
Two‐way circulation
Road diet
Enhance pedestrian & bicycle connection/facilities
Enhance transit hub
"Downtown as home"
Diversify downtown housing options
Expand housing market (affordable, market, luxury, senior)
Attract & Retain Downtown Employers
Market downtown as a employment destination
Work with existing businesses to identify and address downtown needs
Create & Enhance Civic Gathering Spaces & Activity Areas
Expand Pfiffner Pioneer Park
Create new activity areas
Foster new destination events
Targeted Area Master Plan for Downtown
Vandewalle and Associates proposed three redevelopment and reinvestment Target Areas as the core focus of the master plan. These Target Areas are shown in the following map.
Specific recommendations for each Target Area focused on new and renovated developments, improved roadways and circulation, enhanced public amenities, and better connectivity throughout the downtown.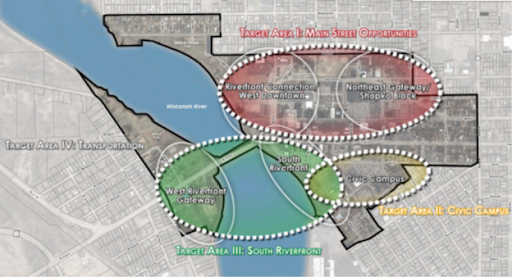 Proposed Vision for the Future
Make better use of and improve the connections along the cultural corridor that runs from the entrance to downtown all the way up to Bukolt.
Creating more housing/mixed-use density and verticality in Downtown Stevens Point – "Growing up not out"
Redevelopment of key Division Street segments per the recent Division Street Targeted Area Master Plan
City-owned land/structures.
Opportunities along N/S streets to extend downtown beyond Main Street & reconnect it to neighborhoods
Create a new zoning district or overlay; create a new incentive district or tool [could have an application to multiple Hub Districts], etc.
Identify Highest Priority Project(s)
One or two high-impact, achievable projects
Redevelop good homes, replace bad housing stock to reclaim the north side, west side, and the triangle as attractive single-family neighborhoods